A 10km road race on Sunday 3 November 2002, Addis Ababa
We took part in the second Great Ethiopian Run in Addis Ababa, the capital of Ethiopia.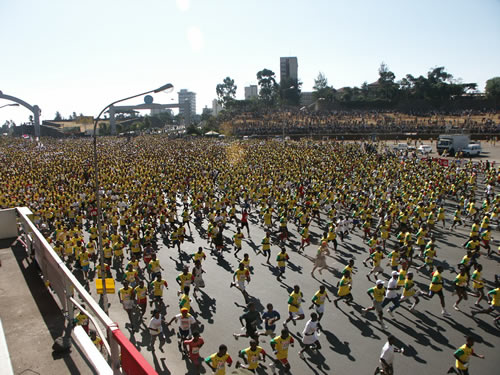 Sixteen thousand runners took part (there were more than 20,000 in the fourth running of the race in 2004) – making this the largest run in Africa. The run was to raise money for AIDS awareness, and for training facilities for Ethiopian athletes. The main organiser was former GB athlete, Richard Neureukar, whose wife Gail works as a doctor in one of the hospitals in Addis Ababa.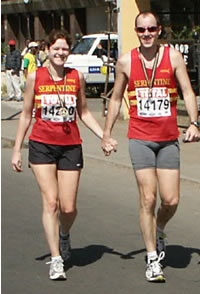 The high altitude (Addis is 2,700m above sea level) and hot temperatures meant that times were slower than sea level, and Ethiopian athletes were at an even greater advantage than usual.
The pictures barely do justice to the scene. The streets were covered in a yellow wave of runners wearing their race T-shirt in the beautiful yellow, red and green colours of the Ethiopian Flag.
It seemed that most of the runners were setting out to break the world record by trying to keep up with the elite runners at the start. There was a great atmosphere, from the start and all along the route, with lots of singing and chanting from all the runners, and great crowd support.
Other links
Owen Barder and Grethe Petersen