Passports &Visas
UK and US citizens need a full passport, valid for at least 6 months after the date of entry. A visa is needed, and can be obtained easily from the Ethiopian Embassy in 3-5 days. You will need a return ticket to be allowed to enter the country.
Vaccinations and malaria
You should get medical advice about appropriate vaccinations. It is sensible to get vaccinations for Hepatitis A, Typhoid, Yellow Fever and Meningococcus. (You should also check that you are up-to-date with your routine vaccinations for tetanus-diphtheria, measles-mumps-rubella, and varicella.)
Malaria is endemic at all times of year. (The particular form of malaria is malignant falciparum form; including, in places, highly chloroquine-resistant falciparum.) Malaria tablets are necessary for travelling anywhere in Ethiopia except Addis Ababa and altitudes above 2000 metres. (They are needed for the tour we did.) It is not worth taking a risk on this – we know people who have died of malaria. Consult your doctor about the appropriate malaria prophylaxis. They will usually recommend Larium, Malarone or doxycycline – of those, we prefer malarone, though it is expensive.
Geography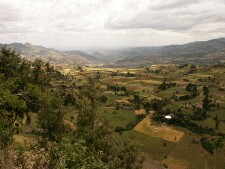 Ethiopia is situated in northeast Africa, bordered by Eritrea, Sudan, Kenya, Somalia and Djibouti. Ethiopia is about twice the size of France: not a large country by African standards (it is the tenth-largest country in Africa by area). Ethiopia is home to 70 million people, making it the second most populous country in Africa after Nigeria.
The central area is a vast highland region of volcanic rock forming a temperate zone surrounded by hot, arid, inhospitable desert. The Great Rift Valley, which starts in Palestine, runs down the Red Sea and diagonally southwest through Ethiopia, Kenya and Malawi. The escarpments on either side of the country are steepest in the north where the terrain is very rugged.
Government
Ethiopia is a democratic, federal republic. The Head of Government since 1995 has been Prime Minister Meles Zenawi. Ethiopia is the only African country never to have been colonized, a fact of which Ethiopians are justly proud, and which contributes to Ethiopia's proud and independent political culture. There are 9 administrative regions to which many government functions are being devolved (Afar, Amhara, Benishangul-Gumaz, Gambela, Hariai, Oromia, Somali, Southern Nations, Tigray); and in addition to the nine regions, there are two self-governing cities (Addis Ababa and Dire Dawa).
Language
Amharic is the official language, although about 80 other languages are spoken. English is widely understood and some Arabic, Italian and French are spoken.
Money
The currency is the Ethiopian Birr (one hundred cents to a Birr). US Dollars are the most convenient currency to exchange. Credit cards and debit cards are not accepted widely outside Addis Ababa.
Swimming
Avoid swimming and paddling in fresh water, other than in well-maintained swimming pools, as swimming in lakes puts you at risk of visceral leishmaniasis (bilharzia), which can be fatal.
Travel
The national airline is Ethiopian Airlines. It is one of the most efficient and safe airlines in the world, and is very reliable and consistently high quality. Their pilots train many of the pilots of other airlines. It has offices in 54 cities around the world. It organises internal flights within Ethiopia which are suitable for tourism – especially the "Historic Route" covering Bahir Dar, Gondar, Axum, and Lalibella.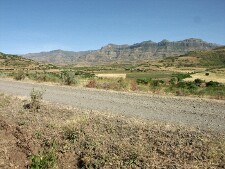 There is a 784km (487-mile) rail service between Djibouti and Addis Ababa, operated jointly by the two governments. This is sometimes considered unsafe (eg because of bandits targeting the railway) – get local advice before you decide whether to use it. Delays are frequent.
The main road access to Ethiopia is via Kenya. There is an all-weather road from Moyale on the border via Yabelo, Dila and Yirga to Addis Ababa. The area on either side of the border (particularly northern Kenya, just south of the border) is generally not considered very safe. You can also cross into Ethiopia by road at Dewale (from Djibouti) and Humera/Metema (from Sudan).
Within Ethiopia, only the main routes have all weather tarmac roads; elsewhere, you need four wheel drive vehicles.
Bus services are run by the Government as well as private companies and they operate throughout the country. They are frequent and fairly reliable, though few tourists use them. The bus terminus can provide schedules and tickets.
Food & Drink
Ethiopian food is based on dishes called we't – pronouced "wot" – which is a sort of meat, chicken or vegetable stew, cooked in a hot pepper sauce. A selection of these are served with, or more usually on, injera, which is the staple of highland Ethiopians. Injera is a pancake made from the fermented batter of an indigenous Ethiopian grain called teff. Teff is related to millet, with tiny seeds and stalks that grow a couple of feet high. Teff is drought-resistant and, unlike most grains, a source of iron as well as of protein and vitamin E.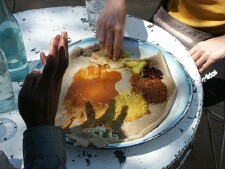 Food is typically served on a brightly colored woven basket table called a masob. The injera is layered on a plate on the basket, and servings of we't are ladled on top. Before beginning the meal, guests are usually given water in a bowl or jug to wash their hands; as the food is shared, and cutlery is not used. The right hand is used to break off pieces of injera with which the we't is gathered up and eaten. You can also get normal bread, dabo, almost everywhere – and this is a useful fallback for breakfasts.
Vegetarians are well catered for: there is usually a good selection of vegetables and pulses. Among the tastiest dishes are shiro (beans or chick peas) and misir (lentils). On Wednesday and Friday, many Ethiopians adopt a vegetarian-only diet: the "fasting food" available on these days is excellent for vegetarians.
If you are tired of Ethiopian food, Addis Ababa has a number of very good Chinese, Italian and Indian restaurants, and international food is available in the main hotels in towns.
Alongside Ethiopian food, you can drink local fruit drinks, similar to smoothies, called chimake (pronounced chih-mah-kee), made from whatever is local and in season, often including guava, papaya, avacado, orange, banana and melon. If you ask for an espris you will get whatever fruits are available, served in layers in a glass – which makes a delicious and healthy drink.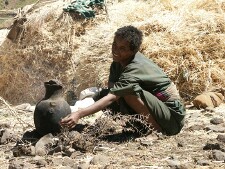 Coffee originates from the Ethiopian province of Kaffa, and coffee in Ethiopia is both very good and plentiful. One beneficial legacy of the Italian occupation is that espresso and cappucino machines are to be found throughout the country, even in quite remote towns; and you can nearly always get a "machiato" (which in northern Ethiopia is what Americans might call a small latte). Ethiopian coffee (buna) is brewed strong and dark. Ethiopia has its own "coffee ceremony", in which beans are roasted and ground in your presence, and brewed into a dark coffee. The ceremony celebrates the aroma and taste of excellent coffee, and you should make time to enjoy it at least once during a visit to the original home of coffee.
There is local red and white wine, cheap and not very nice. You should try talla, the local Ethiopian beer, though European-style beer is available everywhere. Try also tej, which is a strong alcoholic drink based on fermented honey. You can also buy naturally carbonated mineral water, named Ambo after the town where the spring is located; this is very good for settling an upset stomach.
Climate
The climate varies with geography. It is typically hot and humid in the lowlands; and warm and dry in the highlands. It can get very cold at the higher altitudes, and temperatures can fall dramatically at night. The rainy season is from June to September.
War and conflict
For many years it was not safe to travel to the Northern parts of Ethiopia, because of the civil war, and the subsequent border dispute with Eritrea. These disputes are now over and, at the time we visited (2002), it was safe to travel anywhere in the country. It is sensible to avoid the borders with Eritrea, Somalia and Kenya. There is now (2005) continuing, low-level violence in Gambella, which is probably best avoided for the time being. You should check the UK Foreign Office travel guidance for latest information.
Petty crime
As in any other country, you should take extra care of pickpockets and petty crime when in crowded markets, trains etc. Apart from that, we felt safe throughout our visit to Ethiopia – the people we met were friendly and helpful, and we never felt threatened.
Hotels
In Addis Ababa, there are several international standard hotels, with international prices ($200 a night) to match – the two best known are the Hilton and Sheraton. But there a lots of perfectly acceptable, much cheaper hotels if you are travelling on a budget, or prefer to spend your money in the local economy.
Outside Addis, the main towns have hotels which are much cheaper with clean rooms, electricity and hot and cold running water, though the sanitary facilities are not necessarily what a western tourist might expect. Away from the main towns, there are plenty of very cheap hotels aimed at truckers and other local travellers. Prices range from less than US$1 a night to US$30 a night, and the facilities are of varying quality.
Communications
There is a mobile phone network covering the main roads in most of the country; but at the time we visited, there were no mobile roaming agreements, so our phones did not work. (You could presumably hire a local mobile phone in Addis.) There are landlines in many of the towns and villages.
There are internet cafes in Addis Ababa, and in the bigger towns (eg Bahir Dar).