G and I hiked the Tour de Mont Blanc at the end of July, 2010.  This is a well-known 100 mile (160km) hiking route through France, Italy and Switzerland.
Timing
We did the tour anticlockwise in eight days, which included tackling the higher passes (Col Des Fours & Fenetre d'Arpette).  That was pretty comfortable for us, arriving at our destination by mid afternoon on most days.  There is an ultramarathon in which the winners apparently finish in about 20 hours, with a cut off of 46 hours; though this route is slightly different.  The guide book suggests 11 days.
Our itinerary
1 Les Houches (1007m) – Refuge de Miage – Les Contamines (1167m)
(via Col De Voza 1653m; Col de Tricot; 2120m;)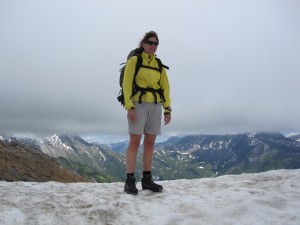 2. Les Contamines (1167m) – Refuge Des Mottets (1870m)
(via Col de Bonhomme 2329m; Col Des Fours 2665m)
3. Refuge Des Mottets (1870m) – Courmayeur (1226m)
(via Col De La Seigne 2516m; Col Checrouit 1956m)
4. Courmayeur (1226m) – La Fouly (1610m)
(via Ref Bertone 1989m; Ref Bonatti 2025m; Grand Col Ferret 2537m)
5. La Fouly (1610m) – Champex (1466m)
6. Champex (1466m) – La Forclaz (1526m)
(via Fenetre d'Arpette 2665m)
7. La Forclaz (1526m) – Argentiere
(via Col de Balme 2191m; Aig des Posettes 2201m)
8. Argentiere – Les Houches (1007m)
(via Ref La Flegere 1875m; Le Brevent 2526m; Ref de Bellachat 2152m)
Because the guide book is excellent, I'm not going to give you a day-by-day account of the walk.  But it was beautiful – most days began in a valley, climbing up to a mountain pass in the morning, to descend to the next valley by mid afternoon.
Guide and maps
The essential guide is Tour of Mont Blanc by Kev Reynolds. This describes the route in both directions, describes the possible variants, suggests places to stay, and picks out key sights along the way.  It includes a map of each stage, which is sufficient for most purposes.
We also took with us the two IGN maps (3630OT and 3531ET) which cover all but about 500m of the route. Though not strictly necessary, we enjoyed spreading them over the breakfast table and planning our day able to see the bigger picture.
You certainly don't need a person to guide you. The route is very well signposted all the way round.
Accommodation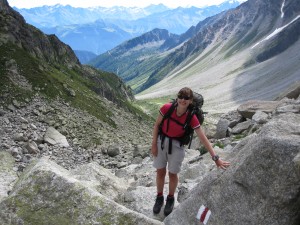 There is plenty of accommodation – at mountain refuges, in bed and breakfasts and in good quality hotels.  Some of the mountain refuges have only dormitories; some have a mixture of rooms and dormitories.  Most provide a good, substantial evening meal.
We did not book our accommodation in advance: we simply phoned ahead each morning.  Even though we were there at high season, we had no difficulties finding rooms.  We only came close to a problem on one day, arriving after a long day in La Fouly, where we had not booked ahead. We managed to get the last hotel room in the town's two hotels; if we had not got that, we could have slept in the dormitory.
In retrospect, I wish we had stayed in more of the mountain refuges.
How hard is it?
Apparently 25,000 people do the Tour de Mont Blanc each year, and you don't need to be a marathon runner. Some people will want to take longer than 8 days; and some will do it faster. We saw lots of people quite a bit older than us out on the trails.
There are a couple of long ascents (especially Fenetre d'Arpette) but these can be avoided by sticking to the main TMB route.
Do we need to carry food and water?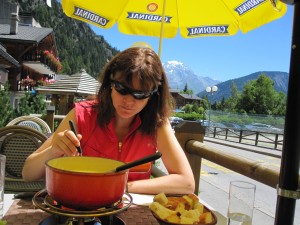 Although a lot of the walking is quite remote, there are mountain refuges every couple of hours where you can get a drink (in my case, a cappucino) and food.  We each carried a water bottle, and a sports bar for emergencies.  Obviously if you plan to camp, you may need to carry food and water.
What to carry with you
People say that their only regret was that they carried too much.  Try to keep your pack to below 10kg.  I suggest that before you leave home, you should walk around town with your backpack carrying what you propose to take. You may find when you get home that you want to take out some surplus.  Here is what we carried: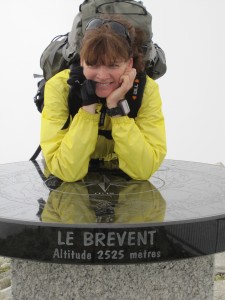 Walking boots
Clothes for hiking: 2 prs shorts; 1 short sleeved shirt; 1 long sleeved shirt; waterproof jacket; scarf; gloves
Clothes for evenings: zip off trousers; long sleeved shirt; fleece; sandals
Underwear: 3 pairs pants and bras; hiking socks
Toiletries, and travel towel
Compass, guidebook
Sun-glasses; small tube of sun cream;  sun-hat
Penknife
Passport, money, credit cards
Mobile phone and charger
Kindle (or book)
Camera
First aid kit