The thing you notice most flying in to Addis Ababa is the amount of construction everywhere.  This part of Addis, the Bole area, is full of shops and restaurants, and new houses and hotels are being built everywhere.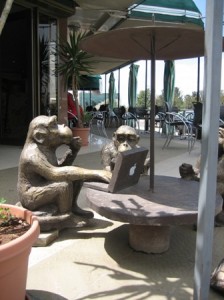 Addis has always benefited from having plenty of great coffee shops (coffee did, by some accounts, originate in Ethiopia).  Now many of them have free wireless internet too – like the Swiss Cafe, which has this splendid sculpture outside its door.
With the traffic and pollution, this part of Addis feels more like Los Angeles than Berkeley.  But inside the coffee shop – paying about 20p for an excellent cappucino and free wireless – you could almost be in the Bay Area.