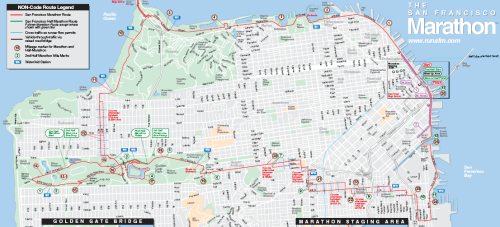 It seemed a good idea at the time. The SF Marathon starts at 5.30am, so we would stay at David's appartment in the city, and I would cycle to the start. It was, after all, only a few miles and mainly downhill. And in any case, this was only a training run: I had not trained for this marathon, had not tapered, and did not expect to do a good time. I just wanted the practice, and this was a good way to do a long Sunday run.
It all went according to plan. Cycling along Market Street, I reminded myself not to let my wheels get caught in the tram tracks, as Dave Parrish did last year. How stupid would that be, I asked myself, to crash on the way to a marathon? (You can see how this is going to end, can't you?) A few minutes later, I saw the perfect bike rack to lock to, on the other side of the road. I started to edge across, focused on waiting for a break in the oncoming traffic, until my back tyre dropped into the tram tracks and the bike went from under me. I left a lot of skin and blood from my knees, hip and shoulder on the road, and limped to the other side of the road. All this at 5am, in the dark.
Perhaps more driven by adrenaline than common sense, I started the race anyway. I was hobbling – my hip was (and is) severely bruised and my knee was bleeding, but you expect to hurt in a marathon (maybe not so much in the first mile).
At about 17 miles, I got the most severe stitch I had ever experienced: I imagine this was because I was running unevenly because of my hip; but it might have been the gel that I took at mile 15. I was stooped on the ground. A police motorcyclist offered me a lift to the medical tent at the finish line. I declined, and walked and jogged as far as Leah and Nathan, who had selflessly got up early to support the runners. I chatted to them for a few minutes while the stitch cleared, and then set off again up Haight Street, hoping that I might catch some of the runners that I had been with before the stitch began. (I did, but not until the 25 mile mark).
When I got to the finish, the crew in the finish area rushed me to the medical tent to treat my injuries. What had happened to me, they wanted to know? I told them that it had all happened before the race even began. I think they were relieved that the race was not to blame for the state I was in.
All in all, this was a horrible run: it hurt every step of the way. I was pleased to finish in 2:54:20 – not bad for a hilly course, with no taper, and carrying injuries. I reckon I can knock a few minutes off that in a serious marathon.