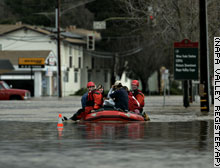 From time to time I gloat about how much better the weather is here in Northern California than in London, Washington or just about anywhere else.
Not this weekend it ain't. This picture is of the town of Napa, the centre of wine country, about an hour north of Berkeley.
And Berkeley isn't much better – I was up to my calves in water cascading down the roads when I was running yesterday, and I haven't even tried to brave the rain today.