This is a presentation which I gave recently asking what development policy can learn from evolution.
The main conclusion is that as would-be change-makers, we should not try to design a better world: we should concentrate on building better feedback loops.
You can view and listen to the presentation by clicking the image below. This narrated presentation lasts 18 minutes (beware: as soon as you click you'll hear my voice, so don't do this if you are in a meeting!).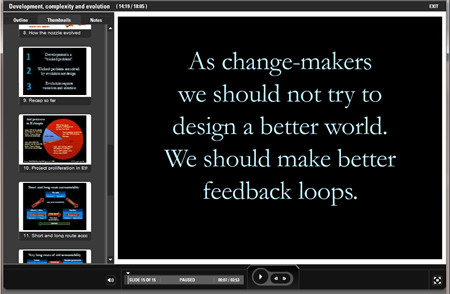 Alternatively, you can download the presentation as a pdf file here.  But this won't make as much sense, as there are a couple of videos in the presentation.
If you like this presentation, you may also like my previous narrated presentation about aid effectiveness after Paris.
Please let me know what you think in the comments below.  Am I right that we should focus more on feedback loops?