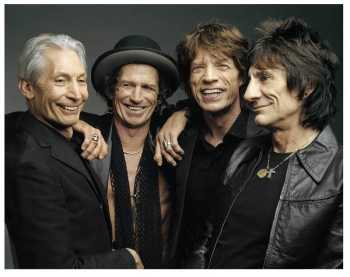 We went to see the Rolling Stones on Sunday evening at the SBC Stadium in San Francisco.
I had expected this to be a rather pitiful experience, like watching an elderly performing animal in a zoo – a historical curiosity rather than an enjoyable night out.
How wrong we were. Watts, Wood, Jagger and Richards all seem in excellent shape – somewhat surprisingly, given what they have put their bodies through over the years. They are all heroin-thin, and full of energy. Jagger, in particular, danced, pranced, ran and jumped over the stage as if he was half his 62 years.
They peformed Stones classics such as Honky Tonk Women, Satisfaction, Sympathy for the Devil, Get Off My Cloud, Miss You, Brown Sugar, Start Me Up, and some tracks from their new album, which sounds as if it is a return to classic Stones form. Some of their numbers were hits before I was born.
I couldn't help feeling that the edgy rock and roll of the Stones compares favourably with Paul McCartney's much tamer, more nostalgic tour playing old Beatles and Wings records. McCartney is looking back; the Stones are still in the game.
There was a tremendous spread of ages in the crowd – from elderly rockers, reliving and remembering their youth, to teenagers seeing the Stones for the first time. The entire stadium danced throughout the warm San Francisco evening.
Seeing them live it is obvious that Charlie Watts is underrated. His assertive drumming creates a disciplined framework, setting clear boundaries for his more anarchic friends. Richards was playing his 5-string guitar most of the time, most noticeable in his trade-mark riffs in Honky Tonk Women, Brown Sugar, and Start Me Up. Ronnie Wood, who still looks like his old band-mate, Rod Stewart, accompanies Jagger and Richards not only with his distinctive playing but with energy and a stage presence that makes you forget that he'll soon be getting his bus pass.