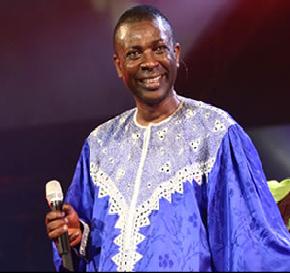 We went to see Senegalese singer Youssou N'Dour on Saturday, live here on Berkeley in the Zellerbach Hall.
Youssou N'Dour became well-known outside Senegal after his collaboration with Peter Gabriel, formerly of Genesis, in the mid 1980s. He had popular success in Europe with "Seven Seconds", a big hit in 1994 with Neneh Cherry.
He has faced some criticism in recent years that his career has moved too far from its West African roots, and pandered too heavily to pop tastes in rich countries. The fast and furious mbalax (Wolof word for rhythm) rhythms that made him famous with his first album, Immigrés, have been less and less in evidence in his recent work.
N'Dour recorded his latest album, Egypt, more than five years ago; but it has only just been released (delayed, in part, by the events of September 11, 2001.) The album is a homage to the caliphs and saints of Senegal's mystical 'Sufi' version of Islam. The music draws from the largely Arab and middle Eastern tones of the streets of Cairo. He worked with Egyptian musician Fathy Salama. On the album he does not sing a single work in English, though he did one song in English during the concert.
Egypt is an amazing combination of N'Dour's voice with the drones of Egyptian reed instruments, the sweeping violins, cello and bass, and twittering African flutes. All the music is performed accoustically. The power of N'Dour's voice, with its enormous range, is much in evidence, and he demonstrates a more subtle touch than his earlier work.
You would be disappointed if you were expecting the foot-tapping, hip swaying mbalax rhythms of N'Dour's youth. But it is music to bring the world together, combining Arab melodies, North African rhythms and West African vocals.
One admirable feature of Youssou N'Dour's work, and part of the reason for his enduring popularity in Africa, is that he continues to make cassettes and albums specifically packaged and targeted at the African market.