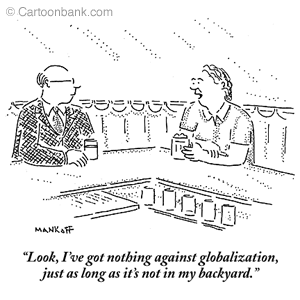 In the comments on my post on "Who benefits from globalisation?", both Ben and Paul ask what we might do to ensure that the poor obtain a greater share of the benefits of globalisation in the future.
This is a very interesting question, worthy of a longer reply than I'm going to give it here. But here is an outline of what we might do. I'd welcome other suggestions in the comments section.
Ensure that further liberalisation gives priority to changes that will benefit poor countries (eg removing agricultural subsidies, removing tariff escalation, unconditionally ending all quotas and tariffs on exports of LDCs, simplifying phyto-sanitary standards) rather than those which are primarily designed to benefit rich countries.
Give priority to extending the logic and practice of globalisation to the market for labour, to complement liberalistion of the markets for goods and for capital. Even small increases in migration would be of huge benefit to poor countries. The asymmetry of our policy rhetoric on free trade for goods but growing anxiety about the movement of people verges on hypocrisy. We can't expect others to accept our arguments on the benefits of globalisation if we remain adamantly opposed to those parts of it that we are uncomfortable about.
Massively increase investment in global public goods, such as R&D into scientific innovation that would help the poor (a green revolution in Africa, new vaccines, solar power etc), conflict prevention and reductions in environmental degradation. By definition, the costs of these public goods should be paid by the world community as a whole, and not by individual countries; and rich countries should be investing much more of their wealth on them.
Give more aid. We know that aid works, on average. There is remarkable consensus about how much aid is needed to meet the Millennium Development Goals, and it isn't very much. A doubling of aid would have a huge impact on developing countries, and the cost to rich countries would be negligible within the context of public spending.
Increase knowledge sharing. I am concerned that the gradual extenson of copyright and patents into more and more of commercial life makes it hard for poor countries to appropriate technology from rich countries and close the gap. This has been a mechanism through the ages by which the poorest have been able to catch up with the richest: my sense is that we are making it harder than ever for this to happen. I think we have to find ways to ensure that poor countries have access to knowledge itself, and to knowledge-intensive products (eg computer software, pharmaceuticals, complex machinery) at tiered prices – the R&D costs should be paid by rich consumers, and poor countries should get access to these products at marginal cost (ie almost nothing). It harms us not in the slightest for them to do so.
There is a separate question of how to pay for the measures with a fiscal cost (namely, more aid, more investment in global public goods). Paul's comment is, I think, aimed at those who advocate new taxes (eg a Tobin Tax, departure tax). He says If you are seeking to dictate to democratically elected governments how to run their economies I don't think you are right. I basically agree with him on that. The costs are so trivially small that governments can absorb them within their normal budget process. The cost to the UK would be about a fifth of what David Davies proposes to save with his fiscal rule – it would mean very slightly smaller reductions in income tax. Governments should decide on the case for new or different taxes on the economic advantages and disadvantages of the tax, not on the basis of the merits of the cause for which the revenues would be hypothecated. As it happens, I am not persuaded by the case for taxing foreign exchange transactions (a Tobin Tax); but I am in favour of taxing aviation fuel; both for microeconomic reasons, not because of how the money might be spent.
So that is my agenda for how we might ensure that we continue to deepen and extend globalisation and at the same time ensure that the poor secure the majority of the benefits. I'd welcome comments or other suggestions in the comments below.
Update 11 November: See Chris Dillow at Stumbling and Mumbling, who adds asset redistribution to the list of possible measures.