An interesting editorial in The Business on Sunday with which I largely agree:
The evidence from across the globe is overwhelming: governments that "protect" their industries hurt their economies and their people. .. Countries that really believe in free trade should simply make a unilateral declaration to scrap their tariffs without condition on the goods and services of developing nations …
But I disagree with their criticism of David Cameron:
David Cameron, soon-to-be 20th leader of the Conservative party, can also be counted out. "The poor are getting poorer," he claimed on a television debate last week, demonstrating his utter ignorance of the subject. The poor are being lifted out of poverty faster than at any time in world history, thanks largely to free trade. More progress has been made in the last 50 years than in the previous 500 years.
Credit where it is due: David Cameron is the first would-be leader that I can remember to speak about our responsiblity to tackle poverty. Here he is in the Telegraph:
when the Conservative Party talks about international affairs, it can't just be Gibraltar and Zimbabwe – we've got to show as much passion about Darfur and the millions of people living on less than a dollar a day in sub-Saharan Africa who are getting poorer while we are getting richer.
But are The Business and the Adam Smith Institute right, or is David Cameron right? Have the poor got poorer? As ever, it depends who you mean, and over what time period.
Here is GDP per capita, in real terms, over the last 30 years. As you will see, GDP per capita in sub Saharan Africa is 8 percent lower today than 30 years ago; in OECD countries it is 86 percent higher. But if you look only at the last decade, then incomes in sub Saharan Africa have begun to recover, as governance has improved, conflict abated and aid increased. Within the region, some countries have grown faster, and some have continued to stagnate. But broadly speaking, David Cameron's claim is right: sub Saharan Africa is poorer now than it was 30 years ago.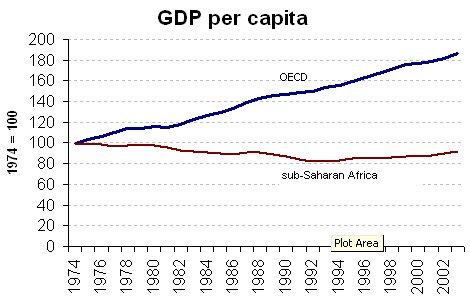 GDP per capita (constant 2000 US$) Indexed to 1974=100
Source: World Bank national accounts, and OECD National Accounts.
But I think the question of whether the poor have got poorer is largely irrelevant. The more profound point, which I would like to have seen The Business, the Adam Smith Institute, this week's Economist, and David Cameron all make, is this. Globalization makes the world richer, on average. We should have more of it, not less of it. The way to acclerate globalization is to distribute the gains of globalisation more fairly. In the last thirty years, the gains have largely gone to the richer countries. This is not surprising: the rich and powerful are able to capture more of the benefits than the weak and vulnerable. But this cannot continue. Let us ensure that in the next decade of deeper and faster globalisation, the benefits are mainly enjoyed by the poor.