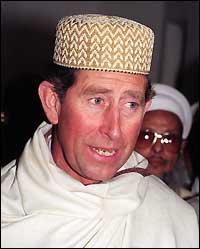 The TV commentators here in the US are distinctly underwhelmed by the visit of the Prince and Princess of Wales; they are not just bored, they are mocking the British. Maybe, as Christine Odone claims (via Tim) it is because a second marriage to your long-time mistress is less romantic than marrying a glamorous airhead. But what I've heard suggests a more fundamental distaste for the idea and practice of monarchy. The criticisms I've heard on the box in the last 24 hours include:
"why should we block the traffic for an un-elected official?"
"he isn't very intelligent – he just likes anything spiritual"
"what gives him the right to come and wag his finger at us about Kyoto? Who elected him?"
"hereditary power is just .. unAmerican"
"why don't the British just get over this stuff already?"
All of which, it seems to me, are fair points; and they demonstrate that America's deep-rooted commitment to democracy is alive and kicking.
(As an aside: when we have to carry identity cards, will Camilla's include her real legal title – Princess of Wales – or the pseudonym she uses – Duchess of Cornwall? Are we allowed to put fake names on our id card?)