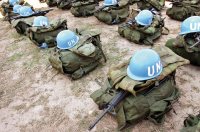 Today is the 60th birthday of the United Nations – the anniversary of the signing of the UN Charter here in San Francisco.
Read this excellent summary (pdf) of 60 ways the UN makes a difference, ranging from human rights to humanitarian aid; from eradicating smallpox to creating a framework to support international business.
Here is a sample of the 60 entries:
12. Providing humanitarian aid to refugees

More than 50 million refugees fleeing war, famine or persecution have received aid from the UN High Commissioner for Refugees since 1951, in a continuing effort that often involves other agencies. The organization seeks long-term or "durable" solutions by helping refugees repatriate to their homeland if conditions warrant, or by helping them to
integrate in their countries of asylum or to resettle in third countries. There are more than 19 million refugees, asylumseekers and internally displaced persons, mostly women and children, who are receiving food, shelter, medical aid, education and repatriation assistance from the UN.

26. Laying the groundwork for business

The UN is good for business. It has provided the "soft infrastructure" for the global economy by negotiating universally accepted technical standards in such diverse areas as statistics, trade law, customs procedures, intellectual property, aviation, shipping and telecommunications, facilitating economic activity and reducing transaction costs. It has laid the groundwork for investment in developing economies by promoting political stability and good governance, battling corruption and urging sound economic policies and business-friendly legislation.
As Democracy Arsenal points out today:
With all the uproar about UN investigator Detlev Mehlis' report implicating the highest levels of the Syrian government in the assassination of former Lebanese Prime Minister Rafiq Hariri, we should not lose sight of the UN's accomplishment in carrying out the investigation and issuing the findings it did. …

But without a broadly mandated UN, how could the Hariri case have moved beyond finger pointing? The Lebanese government could never have been trusted to investigate. There's no way the US itself could have interfered. The Arab League could not have been objective. The EU would never have waded in. The International Criminal Court would not have had jurisdiction. Without the UN, its hard to envision how the investigation, particularly given its depth and breadth, could have been carried out.