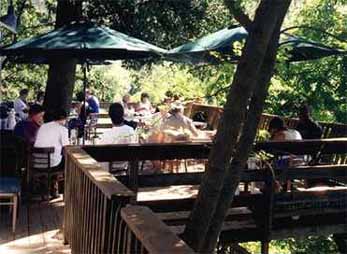 The lovely lady and I were at a conference in Sonoma on Thursday and Friday, so we decided to spend the weekend at Harbin. Harbin is a California institution – a hippy commune, established in the early 1970s, where people come for yoga, organic vegetarian food, thermal springs, wandering around naked, escape, and generally wearing tie-dye kaftans in the evening.
As you all know, I am reality-based, and I don't go in for transcendental bullshit of any sort. I can tolerate yoga only if there is guaranteed to be no chanting – so not even the prospect of topless girls doing yoga persuaded me to take part at Harbin.
Ignoring the spiritual stuff, the place is very relaxing – we loved the combination of sunshine, running on remote trails and cappuccinos by the pool. The hippy culture is fascinating to observe, and mostly harmless. There were lots of naked bearded men meditating in the sunshine, and a large number of somewhat neurotic, new-age women of all ages.
For those of us brought up with English sensibilities, there is something odd about having dinner in the café and knowing what everyone you are eating with looks like naked.
Harbin does not allow cellphones, and the only internet connection is dial-up (no wifi). There are no televisions either. That is nice enough for a few days, but I was beginning to feel cut off by the time we left.
Lots of people go to Harbin to escape, to de-stress and de-tox. I would have expected that some moderate exercise – for example, jogging, hiking or swimming – would be part of a strategy for improving your sense of well-being. But physical exercise, other than yoga, isn't part of the Harbin culture at all, and we were the only people out on the many miles of trails in the hills of the Harbin property and beyond. In my view, running in the early morning sunshine on completely empty trails is a perfect way to start the day and set yourself up for a huge, vegetarian, organic breakfast, and then many long hours by the pool with a stack of books that you are overdue to read.
Verdict: great fun, if only as a spectator, as long as you can do without the internet for a few days.