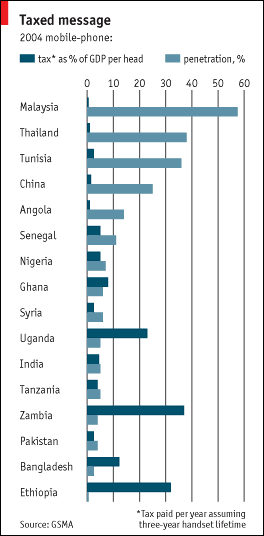 This week's Economist reports an interesting study into the taxation of mobile phones. Not surprisingly, developing countries with high mobile taxes generally have far fewer mobile phones per person than those with low taxes.
This is important because there is good evidence that access to mobile phones is good for development.
Easy! we all cry out in unison. Developing countries should stop being so short sighted and abolish the tax on mobile phones. Doh!
Indeed they should. But if you are the Finance Minister in a very poor country, this is easier said than done. In Bangladesh, health expenditure per person per year is just $11, and primary education just $34 per person per year. You need the money to expand those services. People with mobile phones clearly have more money than most.
Finance Ministers know that if they abolish the tax on mobile phones, there will be more usage, more business, and more taxes coming in. Well perhaps: but when will that revenue arrive? How are you going to manage in the meantime? Many developing countries cannot afford to borrow to see them through until the revenues pick up.
Mobile phones are just one example. The economies of many developing countries would benefit hugely if they could abolish import tariffs, for example on computers and cars; liberalise state telephone companies and other state companies; remove user fees on key government services; and so on. But in poor countries with only a small formal economy, these taxes and charges are major sources of revenue for the government which pay for essential public services.
This seems to me a good example of how aid donors might help developing countries to carry out reforms. The rich countries could provide fixed term funding to finance the fiscal costs to developing country governments of sensible tax and policy reforms that will boost the supply side of the economy, to see the government through during the dip in revenues that they will inevitably experience and can ill afford. The aid could be calibrated to replace the revenues forgone as a result of the reform, and taper off over time as the revenue benefits of the supply side reforms begin to materialize. Donors would thereby provide bridging finance for reform, and share some of the risk that the revenues do not materialize. For this to work, the bridging funds would have to be predictable, guaranteed for as long as the reforms are sustained, and unhypothecated and untied.