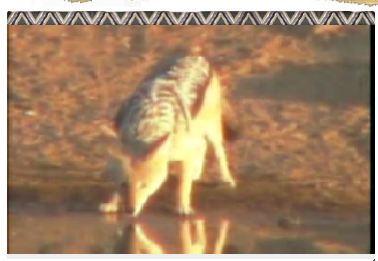 An amazing webcam set up by National Geographic, showing a watering hole in the Mashatu Game Reserve in Botswana. Mashatu is named after trees indigenous to the region, and is in the dry, eastern corner of Botswana.
The picture to the right is a screenshot I took of a jackal (I think) drinking at dawn this morning (it is not a publicity shot).
I find just having the sound in the background – the cicadas at night, the dawn chorus in the morning – very theraputic.
I am beginning to understand what people see in Big Brother …
Peak viewing time is 7am to noon in Botswana (which is 2 hours ahead of GMT and does not have daylight savings time).
H/T: Boing Boing.