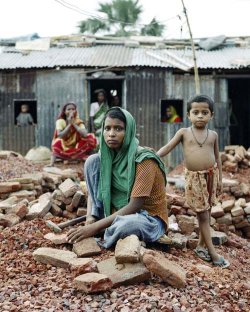 The Guardian has an online photograph exhibition about the eight Millennium Development Goals.
Jeff Sachs's introduction says:
This remarkable exhibition of photographs on behalf of the Millennium Development Goals brilliantly highlights our common humanity. We look at photos of people living in extreme poverty but see first and foremost their humanity and spirit and dedication, even in the midst of extreme deprivation. Their eyes don't call for our pity but for our camaraderie and partnership and empathy.

Around 1 billion people on the planet struggle for their very survival each day, and thousands lose that struggle, succumbing to hunger, illness, and natural hazards simply because they are too poor to stay alive.

There is no reason for this kind of suffering in the 21st century. The people we see are fully capable of becoming highly productive and secure members of the world community, if they are just given a helping hand.