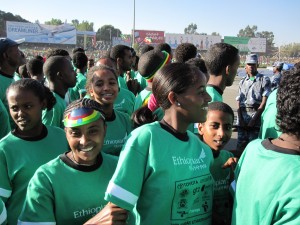 Thirty four thousand runners gathered today in the capital of Ethiopia, Addis Ababa, for Africa's biggest road race, the Great Ethiopian Run.
Koreni Jelila and Tilahun Regassa won the women's and men's races respectively, both with new course records.
The world record holders for the marathon, Paula Radcliffe and Haile Gebreselassie started the race and gave the awards. (For Ethiopians, that's like saying that David Beckham was there with Pele).
Thirty four thousand Ethiopians enjoyed their national sport, running, jogging and walking the 10km route through the nation's capital. Bands played, and fire hoses provided welcome relief from the warm sun.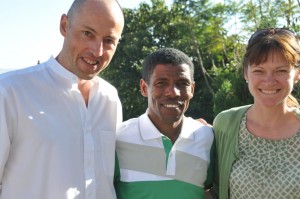 Several hundred foreign runners came especially for the event, many of them raising thousands of dollars for Ethiopian charities and causes.  There were more than 70 runners from Ireland, raising money for Orbis, and runners from Leipzig (which is twinned with Addis Ababa) and from our own Serpentine Running Club in London, raising money for the prevention and treatment of Mossy Foot.
And G and I managed to get our photo taken with Haile Gebreselassie.