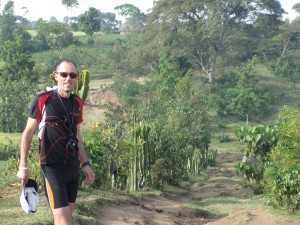 G and I went to Shashemane and Awassa this weekend.
I wanted to see how things are looking in the (usually quite fertile) south towards the end of the growing season.  As you can see from this photo (right) taken on our morning run, things seemed pretty green. The anecdotal view from locals was that this year will be pretty much like last year: not great, but not catastrophic either, provided the government systems such as the safety net programme continue to operate.
People say that the situation further east, over in Somali region, is more worrying.  If a problem does unfold there, it could be exacerbated by the obstacles to people travelling there and monitoring carefully what is happening.
We stayed in a guest lodge run by French Rastafarians, in Shashemane. It felt a bit basic because the water was not working and the electricity was at very low power, but it was very relaxing and friendly.  But if you want something a bit more homely than Wondo Genet or Aregash Lodge, this is a good resting point.
One other thing.  My mobile internet dongle worked fine in both Shashemane and in Awassa.  So ETC is rolling out CDMA internet outside Addis.