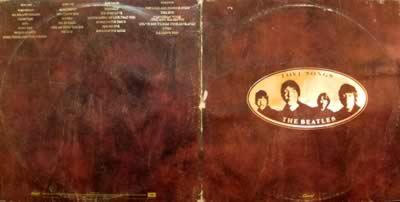 When I was 11 at boarding school, one of the boys in my dormitory (a lad by the name of Adam Wolf) had a cassette of Beatles Love Songs, a compilation double album released by Capitol Records in 1977. We listened to those cassettes all day every day. Nothing reminds me more of my time in boarding school.
I bought the record myself when I was a bit older. But Beatles Love Songs was long out of print by the time CDs began to replace vinyl, and Capitol has never released the compilation on CD. I sold all my vinyl records (which I had not played for many years) when I left for the United States. This is one of the albums I most regret saying goodbye to.
Now that all my records are stored on my hard disk, however, I have been able to recreate the album simply by making a playlist of the tracks from the original albums. Though it was nearly thirty years ago, I actually remember the track order (though you can just make out the names of the tracks from the above picture of the cover). For the record, here are the songs, and the original albums you will find them on.
Side one: Yesterday (Help!), I'll Follow the Sun (Beatles for Sale), I Need You (Help!), Girl (Rubber Soul) , In My Life (Rubber Soul), Words of Love (Beatles for Sale), Here, There, and Everywhere (Revolver)
Side two: Something (Abbey Road), And I Love Her (Hard Day's Night), If I Fell (Hard Day's Night), I'll Be Back (Hard Day's Night), Tell Me What You See (Help!), Yes It Is (Past Masters Vol 1).
Side three: Michelle (Rubber Soul), It's Only Love (Help!), You're Gonna Lose That Girl (Help!), Every Little Thing (Beatles for Sale), For No One (Revolver), She's Leaving Home (Sgt Pepper),
Side four: Long And Winding Road (Let It Be), This Boy (Past Masters Vol 1), Norwegian Wood (Rubber Soul), You've Got To Hide Your Love Away (Help!), I Will (White Album), P.S. I Love You (Please Please Me)
I'm listening to the album I've created right now. It sure takes me back. This would have been possible, but time-consuming, in the days before digital music – I could have made a tape of the relevant tracks. Now it is a doddle.