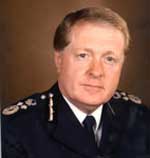 There have been calls for Sir Ian Blair, the Metropolitan Police Commissioner, to resign over his remarks at a press conference following the shooting of Jean Charles de Menezes at Stockwell Tube station on 22 July. Blair said
The information I have available if that this shooting is directly linked to the ongoing and expanding anti-terrorist operation. Any death is deeply regrettable. I understand the man was challenged and refused to obey.
While we should all try to avoid compounding the error by jumping to any more conclusions before all the facts are known, it does seem likely that Ian Blair's comments at the press conference were not correct. This has lead to a number of calls for his resignation. For example, according to ITN:
Asad Rehman, from the Justice4Jean campaign, said that if Sir Ian was found to have misled Mr de Menezes's family, his position would be "no longer tenable" … Ex-Cabinet minister Frank Dobson tonight said that Sir Ian's position was "very difficult" because he was partly responsible for people being misled.
Now I do not think that Sir Ian Blair's remarks, if they do turn out to be wrong, are sufficient reason for him to resign. I guess his remarks were based on information that he had been given by his staff – it is very unlikely that he would have said this if he had known it wasn't true. But more importantly, while it now seems likely that they were misleading, the remarks did not do anyone much harm (except for some damage to the reputation of a dead man.)
However, it may yet turn out that there are at least two reason why Sir Ian should resign.
First, if it turns out that the design and execution (if you will pardon the pun) of the 'shoot to kill' policy was flawed, then Sir Ian Blair should be held accountable for the consequences. It does seem odd that there was little public discussion of the introduction of this policy, and it may have been implemented without sufficient precautions. We don't yet know enough about the detail of this policy or how it was communicated to the officers expected to implement it to be sure that there was a failure of leadership, but that certainly seems possible.
Second, there are some stories that Sir Ian Blair may have sought to prevent an enquiry into the circumstances of the shooting of Mr Menezes. If this turns out to be true, then this would indeed be a resigning matter, consistent with my dictum that it is always the cover-up that does you.
Update 21 August: You should take a look at my Dad's longer and more considered comments on this. I agree with him, though he is perhaps willing to give the police more of the benefit of the doubt than me.