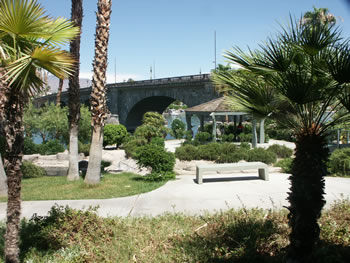 Driving from the Grand Canyon to Las Vegas, we decided to stop in to Lake Havasu City, Arizona, to visit London Bridge.
London Bridge was designed by John Rennie and completed by his son (of the same name) between 1824 and 1831. It was made of Dartmoor granite, and the offical opening took place on August 1, 1831. King William IV and Queen Adelaide attended a banquet in a pavilion erected on the bridge. It was widened in 1902-1904 in an attempt to combat London's chronic traffic congestion. Unfortunately, this proved too much for the bridge's foundations; it was subsequently discovered that the bridge was sinking an inch every eight years. So London put the bridge up for sale in the 1960s.
Ivan Luckin, Chairman of the City of London Police and a London Councillor, had his own advertising company and visited America on business. In 1968, Luckin managed to sell London Bridge to the American entrepreneur Robert P. McCulloch for $2,460,000, who wanted it as the centre-piece of a new resort that he was building.
It is a widely held belief among Londoners that McCulloch mistakenly though that he was buying Tower Bridge, which is an altogether more iconic structure than the rather boring, flat bridge designed by Rennie. Both Luckin and McCulloch denied this.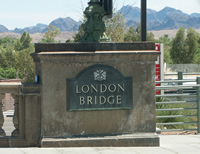 The bridge was shipped piece by piece to Lake Havasu City, Arizona, where it was reconstructed and dedicated on October 10, 1971. As it happened, not all of the bridge was transported to America; some was kept behind in lieu of taxes and was eventually auctioned in 2003. Today the London Bridge spans a canal that leads from Lake Havasu to Thompson Bay. It forms the centrepiece of an grotesque parody of an English theme park complete with mock-Tudor shopping mall.
Rennie's London Bridge has become Arizona's second biggest tourist attraction after the Grand Canyon.