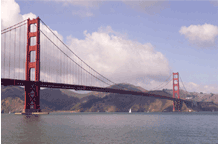 Grethe and I ran the San Francisco Marathon yesterday. This was a training run for both of us – we even ran on Saturday (which we would not have done if we had been taking this seriously).
It started very, very early (5.20am), in part so that the route could go over the Golden Gate Bridge and back without disrupting the traffic too much. It then goes through Baker's Beach to the Golden Gate Park, and then South of Market to the SBC Stadium and then back to the start at the Ferry Building. It is fairly hilly – especially running up from Chrissie Fields on to the bridge (and the bridge is also surprisingly hilly).
Our finishing times: Grethe 3:38:39; Owen 3:05:16.
Recommended? You bet.