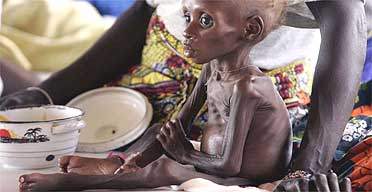 More than 2 and a half million people are at risk from starvation in Niger, because of food shortages caused by drought and locusts.
According to today's Guardian:
The UN first appealed for assistance for Niger in November and got almost no response. Another appeal for $16m (£9.2m) in March got about $1m. The latest appeal on May 25 for $30m has received about $10m but "it's still too little", the UN humanitarian chief, Jan Egeland, said.

"We are having now an acute humanitarian crisis in Niger in which children are dying as we speak," he said. "We could have prevented this and the world community didn't."