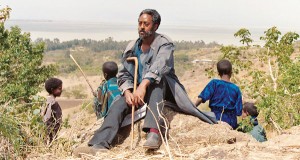 We went to see Teza last night, a newish film by Haile Gerima which won Best Screenplay and the  Special jury prize at the Venice film festival last year.  The film is in Amharic with English sub-titles.
The film is about Anberber (played by Aaron Arefe – shown left) who returns to his village in Gondar after years spent studying medicine in Germany.  But he returns at the time of the Derg, led by Haile Mariam Mengistu, and in Anberber's village, young men have to hide in the hills to avoid being conscripted.
Much of the film is in flashback as Anberber looks back on his experiences.
We thought this was an entertaining and moving account of Ethiopia's history, and especially the time of the Derg.  It was well scripted and acted, and beautifully filmed.  For those of us who love the Ethiopian countryside, people and culture, there was much to revel in.