Normally I tried to avoid blogging about blogging – it is all too self referential. But three recent articles (see below) got me thinking.
It seems to me that there are three distinct roles for blogs in relation to conventional media:
first, blogs give a chance for experts to communicate directly, without being intermediated by the media. They can express themselves at length, and impartially without the constraints that inevitably constrain commercial news outlets to simplfy and sensationalize, to be balanced (as opposed to objective); I know only too well the frustration of trying to convey ideas through newspapers and broadcast media, and when in charge of communications for a Government department, often wished that I could speak directly to the readers;
second, blogs are a way for well-written opinions to be written in the true voice of the author – with passion and personality, rather than adhering to the political position of a commercial news organisation. These are not necessarily written by experts: the value lies in the judgement and eloquence of the commentator; this point is made by Paul Mason, in his very interesting reflections on his experience blogging Live8 for Newsnight.
third, blogs act as a sort of watchful eye on the conventional media, correcting mistakes, challenging biases both in reporting and ommission, and so helping to raise the quality of journalism. This point is well made by Daniel Glover in a speech to a Heritage Foundation round table.
At least for now, blogs are not replacing conventional journalism. Most blogging is derivative on news reported by the mainstream media – commenting on news, criticising the way it has been reported, and selectively drawing attention to it. Almost no bloggers engage in the patient investigative journalism that makes great newspapers (think of Bernstein and Woodward, for example); and there is very little primary newsgathering by the blogging community. Sarah Boxer remarked in the New York Times noted that the Flickr collection of photographs about London were "not about the tragedy itself but about how news is passed."
It is quite remarkable how much blogging is in this third category: commenting on the mainstream media. I've been surprised by the popularity of Tim Worstall's blog, which is sometimes referred to as an influential blog in the print media (how these things come full circle!). Tim has a jovial and popular style, a voracious appetite for the writings of others, and he is never short of an opinion. But the contribution of his blog – and many others like it – is almost entirely based on synthesising and critiquing the work of the traditional print and broadcast press. This type of blogging is no more a journalism than drama criticism is acting. This is not intended to be a criticism of Tim or other bloggers – and the point applies in large measure to my own blog – but an observation on the limits of our contribution.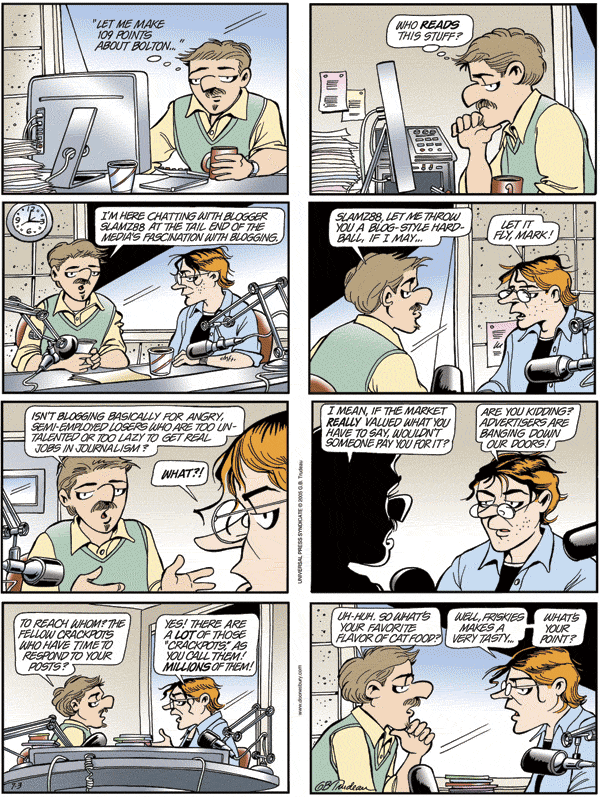 It is not the critic who counts, not the man who points out how the strong man stumbled, or where the doer of deeds could have done better. The credit belongs to the man who is actually in the arena, whose face is marred by dust and sweat and blood, who strives valiantly, who errs and comes short again and again, who knows the great enthusiasms, the great devotions, and spends himself in a worthy cause, who at best knows achievement and who at the worst if he fails at least fails while daring greatly so his place shall never be with those cold and timid souls who know neither victory nor defeat."–Theodore Roosevelt.