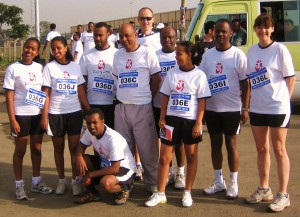 Here is the Marie Stopes team for the Olympic Day Ring Road Relay yesterday. Each team of 12 people ran a kilometre each on the newly built ring road, between Meganagna and Bole. It was an out-and-back route, so we got to see the elite athletes going past. Haile Gebrselassie presented the prizes at the finish.
I have to say it isn't easy to run a kilometre anyway – it is a lung-busting, all out effort – but it is harder still with the heat and pollution of the Addis ring road.
And this is what power-athletes have for breakfast.