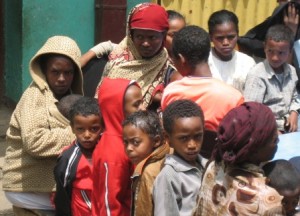 Every day, about a 120 children come to get lunch at Beza le Hiwot, a day-centre at near the Merkato in Addis Ababa.
Their food is provided by Our Father's Kitchen, set up a year ago by Yasser and Manal Bagersh who own a couple of restaurants here in Addis. Their kitchens provide food every day for these children, most of whom are living with HIV.
It costs 217.20 birr (about $20) a month to feed a child every day. A decent meal is an essential part of staying healthy for a child living with AIDS – the drugs make you sick on an empty stomach – and the simple provision of this meal enables these children to go to school. With this simple investment, Yasser and Manal are transforming the lives of these children.
They want to expand the programme and they are launching a pledge campaign. Yasser is setting up a website for people to donate; until then you can pick up a sponsorship form at The Lime Tree Cafe or email ourfatherskitchen@yahoo.com.