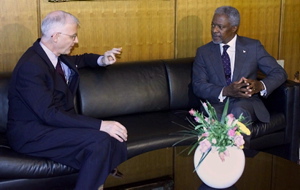 There is still no news of Robert Fowler, the UN special envoy to Niger:
The Niger government is still without news of the top UN official in the country, Canadian Robert Fowler, who disappeared three days ago west of the capital, the government spokesman said Wednesday.
I met Bob Fowler when he was the representative of Canda's Prime Minister preparing for G-8 summits (the so-called "Sherpa"); and subsequently the personal representative for Africa ("APR" in the jargon).  The Kananaskis G-8 summit, which he helped to prepare (in which I was much more marginally involved) adopted the G-8 Africa Action Plan, which was a breakthrough in raising the commitment of the richest countries to doing more for Africa.
Bob Fowler is a remarkable man with a profound commitment to the people of Africa.  He is always willing to push the boundaries – he played a pivotal role in negotiating the end of "blood diamond" sales which financed the civil war in Angola, and so helped bring about the end of that war.
I don't know who is holding Bob now, or what they want.  But he deserves to be a hero in Africa, not a kidnap victim.   Fingers crossed for his early and safe release.