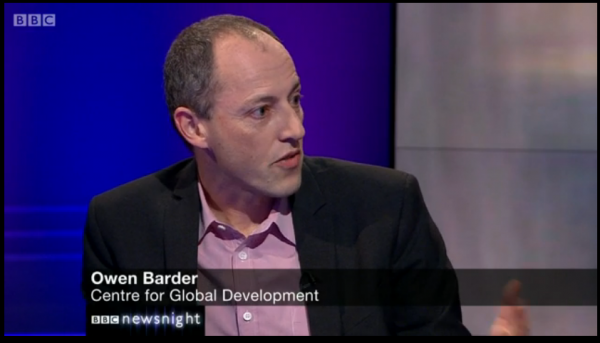 This is the website of Owen Barder, a development economist. Owen is Senior Fellow and Director for Europe at the Center for Global Development, a Visiting Professor in Practice at the London School of Economics, and an Associate of the Institute for Government. Owen was a civil servant for a quarter of a century, working in Number 10, the Treasury and the Department for International Development. Owen hosts the Development Drums podcast, and is the author Running for Fitness, the book and website.
Development
September 24th, 2014
In evidence for the House of Commons International Development Committee, we argue that "beyond aid" policies are likely to have a bigger impact than aid alone, address the underlying causes of poverty rather than the symptoms, and benefit rather than cost the UK.
September 8th, 2014
If you could choose how to curb greenhouse gas emissions, would you choose a carbon tax or cap-and-trade? In this post, which first appeared on Views from the Center, we say the economic arguments are pretty finely balanced. (In the next post, we'll say that the political and practical consideratio
Technology
August 21st, 2013
In which I bring news of a disruptive new app from O2 which will get rid of roaming charges, as long as you can get onto the internet.
June 12th, 2013
The new "Development Tracker" website launched in beta by DFID is disruptive in two important ways: one which will appeal especially to open data geeks, and one which will appeal to development geeks. (I am proud to call myself both.)
Development Drums
March 21st, 2014
In the latest episode of Development Drums, I talk to the journalist and author Nina Munk about Jeff Sachs and the Millennium Villages Project, and the lessons for development cooperation more broadly.
August 29th, 2013
Here are some suggestions for podcasts for people interested in development (and/or economics).
August 27th, 2012
This second of three blog posts looking at development policy through the lens of complexity thinking considers whether David Cameron's 'golden thread' is good development policy.
April 12th, 2012
This post sets out seven worries about the results agenda; four reasons why the results agenda is vital; and a series of measures aimed at balancing these concerns.
July 27th, 2011
Two things to keep in mind about famine and drought. First, famine is not caused by drought or overpopulation or insufficient food production. Second, development aid works.
August 16th, 2012
My 2012 Kapuściński Lecture considered the implications of complexity thinking for development economics and development policy. This post presents an updated version as a narrated online presentation which lasts about 45 minutes.
September 7th, 2012
Owen Barder and Ben Ramalingam look at the implications of complexity for the trend towards results-based management in development cooperation. They argue that complexity provides a powerful reason for pursuing the results agenda, but it has to be done in ways which reflect the context.
February 22nd, 2011
I've spent the last three years working on aid transparency. As I'm moving on to an exciting new role this seems a good time to reflect on what I've learned in the last three years.  Busy readers may want to read just the 8-point summary.
August 24th, 2012
This the first of three blog posts exploring the implications of complexity for development. In my lecture on complexity I argue that development is an emergent property of the economic and social system. This blog post explains what that means.
February 10th, 2012
People who talk about 'the results agenda' in aid mean at least four different things. The differences might be important.
April 7th, 2011
The second of a pair of posts on aid transparency: this one looking at proposed next steps, particularly focusing on how we can provide meaningful transparency for citizens in developing countries.